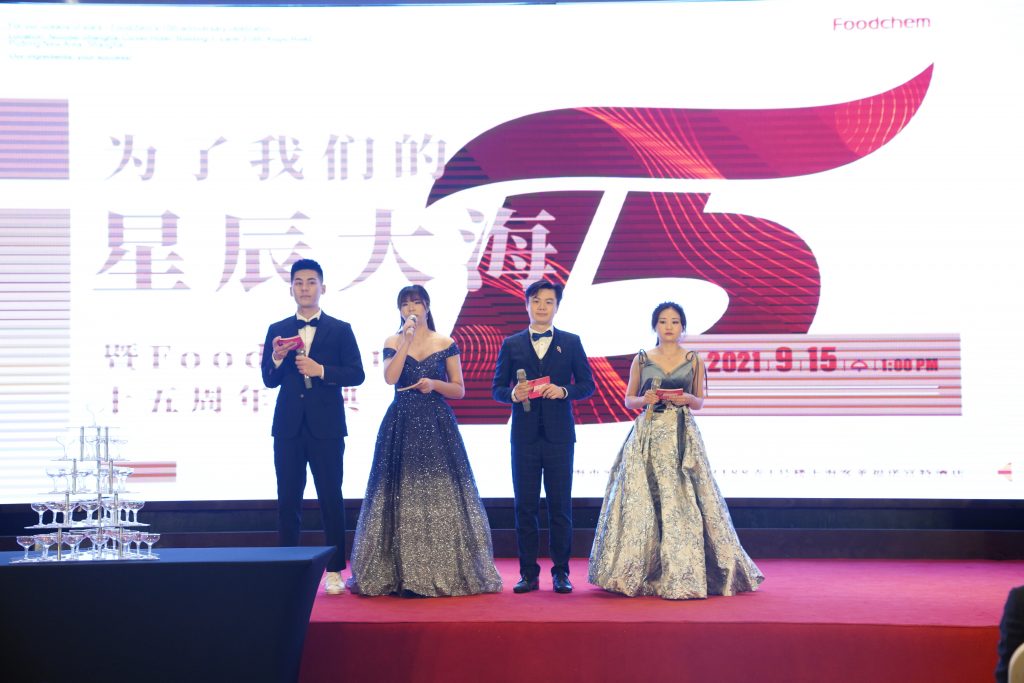 Foodchem and foodmate's 15th anniversary celebration was held at The Crefault Hotel pudong New Area on 15th,September 2021. All foodchem and foodmate staff were present to witness this wonderful occasion. Meanwhile, foreign customers have also sent their best wishes.
Growing up
Foodchem was established in 2006 as a trading company with Pudong New Area. From the first time to participate in the exhibition began to gradually enter everyone's vision. After 15 years of development, Foodchem's customers covers 120 countries and regions in the world. In 2013,we established the Export Distribution Center (EDC) in Shanghai Yangshan Free Trade Zone. In 2014,we set up our own factory and independent R&D center. We start to transform from a trading company to one that not only provides the products but also provides customized services and products.
In the past 15 years, we have experienced the golden age of China's foreign trade enterprises. Foodchem and foodmate has gone from a foreign trade company to a branded, customised service and solution provider. The Times shaped Foodchem, and there are many challenges for Foodchem to overcome in the future. In the future, we will continue to learn, advance with The Times, and provide customers with better services and products.
Look into the future
Looking forward to the next five years, the construction and operation of the second phase plant in Jiangxi will inject new impetus and vitality into the development of Foodchem and foodmate. At the same time, the food and chemical industry will continue to be active, honest and open, serious and pragmatic, professional and efficient "business philosophy, deep cultivation of food additives and ingredients industry.
At the 15th anniversary event,Lemon laid out the Foodchem and foodmate's goals for the next five years.
Lead the Company to go public on Foodchem's 20th anniversary.
Lead the company to become a learning company
Lead the company in all aspects from trading to R&D
Lead the company to become a leader in food additives and ingredients industry
Increase R&D expenditure and lead the company to become a technology innovative enterprise
Fifteen years is a milestone and a new starting point for Foodchem and . The grand blueprint for future development has been drawn and it is the right time to strive. We believe that foodechemer will work together to forge ahead towards the established strategic goals.